Clayton Heights-Lomas del Cielo Has Lobos Sports + More
Just south of the UNM campus and encompassing some of the Central New Mexico Community College, Clayton Heights-Lomas del Cielo is the hub for many campus activity and home to a number of helpful businesses.
Sports in Clayton Heights-Lomas del Cielo
Lobos Sports are a big deal in Albuquerque for both students and residents. Who doesn't love going to a college football game at Dreamstyle Stadium or a Lady Lobos basketball game at Dreamstyle Area? Dreamstyle Arena also hosts other events besides sports events, like concerts and lectures. If you're a UNM fan or alum, you probably know Dreamstyle Arena is nicknamed "The Pit" for its underground design. The entrance is at ground level, but the court is 37 feet below street level. Its unique design, overwhelming home-court success, and reputation as one of the loudest collegiate stadiums makes it a place you just have to visit.
Best Schools in Clayton Heights-Lomas del Cielo 
We already mentioned UNM and CNM are in Clayton Heights. But this neighborhood also has an excellent charter school as well. Mission Achievement and Success Charter School offers K-12 education for those seeking a college and career-focused environment. Their motto, "No excuses—whatever it takes," applies to both education and goal-setting/achievement. More than academics, these schools seek to prepare students for successful careers and lives.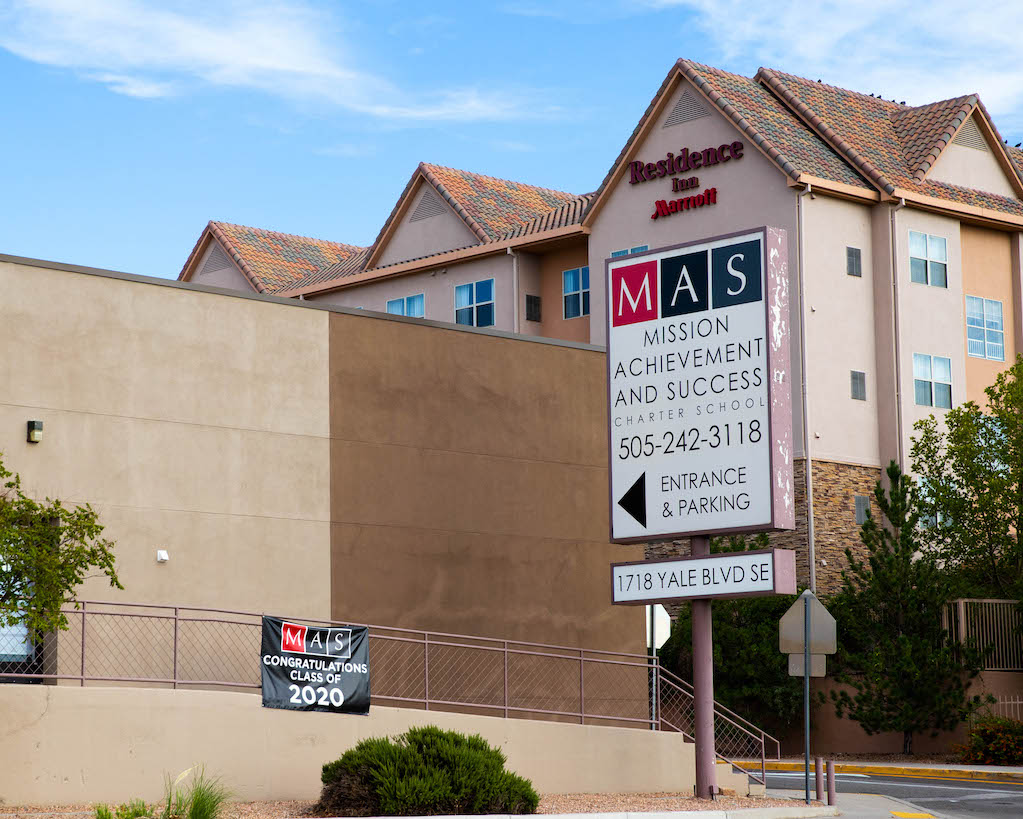 Driving Directions from MAS to Digital Harvest
Drive 19.2 miles, 24 min
Mission Achievement and Success Charter School 1.0 to 7337 Triana Pl NW
Mission Achievement and Success Charter School 1.0
1718 Yale Blvd SE, Albuquerque, NM 87106
Get on I-25 N
3 min (1.6 mi)
Head north on Yale Blvd SE toward Anderson Ave SE
0.5 mi
Turn left onto Avenida Cesar Chavez
1.0 mi
Use the right lane to take the ramp onto I-25 N
0.2 mi
Follow I-25 N and NM-423 W to Paseo Del Norte NW
12 min (12.7 mi)
Merge onto I-25 N
7.6 mi
Take exit 232 for NM-423 toward Paseo del Norte
0.2 mi
Keep left, follow signs for New Mexico 423 W/Paseo del Norte and merge onto NM-423 W/Paseo Del Norte Blvd NE
4.9 mi
Follow Paseo Del Norte NW to Triana Pl NW
9 min (4.9 mi)
Continue straight onto Paseo Del Norte NW
4.4 mi
Turn right onto Rainbow Blvd NW
0.2 mi
Turn left onto Ventana Ranch Rd NW
0.1 mi
Turn right onto Entrada Pl NW
184 ft
Turn left at the 1st cross street onto Triana Pl NW
 Destination will be on the right
0.1 mi
7337 Triana Pl NW
What makes Digital Harvest different than other Clayton Heights-Lomas del Cielo SEO & web design agencies?
First off, we're local and our reps will either come meet you at your place of business or invite you down to our headquarters for a meeting in Albuquerque. We don't chase prospects down for business. All of our business comes from referrals or through SEO rankings – which means people get results and refer us to their colleagues, or they find us online by searching for things like "Albuquerque SEO company" or "website designer in Lomas del Cielo." In other words, we walk our talk and have a proven track record of success.
How long can I expect it to take to get results with SEO in Carlsbad?
Traditionally, SEO is the slowest form of internet advertising because the changes you make to your site today could take 3-6 months to affect your search engine rankings. Having said that, individual results are very dependent on the type of business you're trying to rank, how much competition you have, and how large your market is. Once our SEO consultants do a website analysis of your site and examine the competition in your niche, we'll have a much better idea of how long it will take.